This section is dedicated to the latest information on oral health topics, culled from authoritative sources such as the American Dental Association.

Click here for the latest news from the American Dental Association.
---
Heart Disease
Poor dental hygiene can cause a host of problems outside your mouth-including your heart. Medical research has uncovered a definitive link between heart disease and certain kinds of oral infections such as periodontal disease. Some have even suggested that gum disease may be as dangerous as or more dangerous than other factors such as tobacco use. A condition called chronic periodontitis, or persistent gum disease, has been linked to cardiovascular problems by medical researchers.

In short, infections and harmful bacteria in your mouth can spread through the bloodstream to your liver, which produces harmful proteins that can lead to systemic cardiac problems. That's why it is critical to practice good oral hygiene to keep infections at bay-this includes a daily regimen of brushing, flossing and rinsing.
---
Antibiotic Prophylaxis
In some cases, patients with compromised immune systems or who fear an infection from a dental procedure may take antibiotics before visiting the dentist.

It is possible for bacteria from your mouth to enter your bloodstream during a dental procedure in which tissues are cut or bleeding occurs. A healthy immune system will normally fight such bacteria before they result in an infection. However, certain cardiovascular conditions in patients with weakened hearts could be at risk for an infection or heart muscle inflammation (bacterial endocarditis) resulting from a dental procedure.

Patients with heart conditions (including weakened heart valves) are strongly advised to inform our office before undergoing any dental procedure. The proper antibiotic will prevent any unnecessary complications.
---
Dentistry Health Care That Works: Tobacco
The American Dental Association has long been a leader in the battle against tobacco-related disease, working to educate the public about the dangers inherent in tobacco use and encouraging dentists to help their patients break the cycle of addiction. The Association has continually strengthened and updated its tobacco policies as new scientific information has become available.
Smoking and Implants
Recent studies have shown that there is a direct link between oral tissue and bones loss and smoking. Tooth loss and edentulism are more common in smokers than in non-smokers. In addition, people who smoke are more likely to develop severe periodontal disease.

The formation of deep mucosal pockets with inflammation of the peri-implant mucosa around dental implants is called peri-implantitis. Smokers treated with dental implants have a greater risk of developing peri-implantitis. This condition can lead to increased resorption of peri-implant bone. If left untreated, peri-implantitis can lead to implant failure. In a recent international study, smokers showed a higher score in bleeding index with greater peri-implant pocket depth and radiographically discernible bone resorption around the implant, particularly in the maxilla.

Many studies have shown that smoking can lead to higher rates of dental implant failure. In general, smoking cessation usually leads to improved periodontal health and a patient's chance for successful implant acceptance.
---
External Links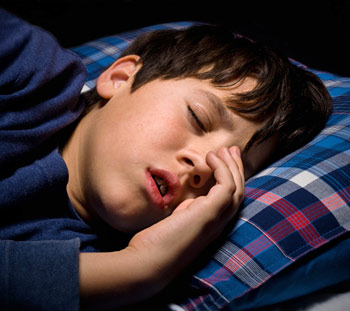 The number of children diagnosed with Attention Deficit Hyperactivity Disorder (ADHD) has been steadily increasing over the past decade. Yet according to a recent study, many children diagnosed with this condition don't really have it; their behavioral problems are actually related to sleep-related breathing disorders (SRBD), such as sleep apnea.
The 2012 study, published in the journal Pediatrics, followed more than 11,000 children for six years, starting when they were 6 months old. The children who had SRBD were 40 percent to 100 percent more likely than kids without breathing issues to develop behavioral problems resembling ADHD by the age of 7. So if your child is exhibiting ADHD-like symptoms — or has even been diagnosed with ADHD — it's worth considering whether interrupted sleep might be an issue.
It makes perfect sense when you think about it: A well-rested individual, young or old, can function a lot better on a good night's sleep. Yet a lack of sleep affects adults and children differently. While sleepy adults tend to act sluggish and drowsy, sleep-deprived kids are more likely to become hyperactive, uncooperative and unable to focus — just like kids with ADHD.
So what exactly is SRBD?
The condition is characterized by recurrent episodes of interrupted breathing during sleep. The child's airway becomes blocked by soft tissues near the back of the throat — tonsils or the tongue, for example — that partially close off the windpipe. These tissues can vibrate as air passes by, causing snoring. It's often worse while sleeping on one's back because this encourages the lower jaw to slip back, which in turn pushes the tongue in front of the airway.
Overweight children have a higher incidence of sleep apnea due to fatty tissue deposits in the soft palate, which decrease the size of the child's airway.
Does your child have a sleep-related breathing disorder? You can gather clues to report to your health professional by observing your child sleeping. Look for the following signs:
Snoring
Pauses in breathing
Chronic mouth breathing
Constant tossing and turning
Night panics
Bed-wetting
How is sleep apnea treated in children?
There are various treatments that can be very effective, depending on the cause. Enlarged tonsils and adenoids can be surgically removed. A therapy known as Continuous Positive Airway Pressure (CPAP) involves the use of a machine that delivers mild air pressure through a mask worn during sleep to keep the airway open.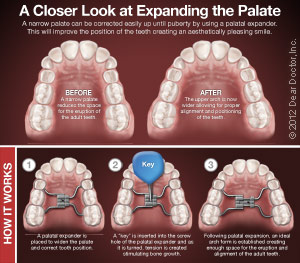 Dentistry also can also play a role in treatment. For younger children who are still growing, the use of an orthodontic appliance called a palatal expander has proven helpful in some cases. A palatal expander gently widens the roof of the mouth (palate) over time by separating bones that don't permanently fuse together until puberty. It's most often used to create more room for crowded teeth, but the expansion can also increase airflow.
Older children who have stopped growing can sometimes benefit from Oral Appliance Therapy (OAT). This involves wearing a custom-made oral appliance designed to reposition the jaw during sleep so that the tongue is held away from the back of the throat, reducing the potential for obstruction.
The first step is to figure out what's keeping your child from getting the restful sleep that's so crucial to good health and well-being. For that to occur, and for your child to receive the best treatment, you will need to see a trained professional.
Related Articles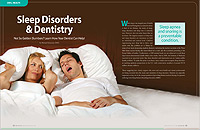 Sleep Disorders & Dentistry If my partner snores loudly, should I be concerned and what can be done to alleviate the problem? Why does my sleeping partner have lapses in breathing while sleeping and is it dangerous? Why do I wake up exhausted even though I get up to 10 hours of sleep at night? The answers to these and other questions — and how dentistry can help — are all revealed within... Read Article