This section is dedicated to the latest information on oral health topics, culled from authoritative sources such as the American Dental Association.

Click here for the latest news from the American Dental Association.
---
Heart Disease
Poor dental hygiene can cause a host of problems outside your mouth-including your heart. Medical research has uncovered a definitive link between heart disease and certain kinds of oral infections such as periodontal disease. Some have even suggested that gum disease may be as dangerous as or more dangerous than other factors such as tobacco use. A condition called chronic periodontitis, or persistent gum disease, has been linked to cardiovascular problems by medical researchers.

In short, infections and harmful bacteria in your mouth can spread through the bloodstream to your liver, which produces harmful proteins that can lead to systemic cardiac problems. That's why it is critical to practice good oral hygiene to keep infections at bay-this includes a daily regimen of brushing, flossing and rinsing.
---
Antibiotic Prophylaxis
In some cases, patients with compromised immune systems or who fear an infection from a dental procedure may take antibiotics before visiting the dentist.

It is possible for bacteria from your mouth to enter your bloodstream during a dental procedure in which tissues are cut or bleeding occurs. A healthy immune system will normally fight such bacteria before they result in an infection. However, certain cardiovascular conditions in patients with weakened hearts could be at risk for an infection or heart muscle inflammation (bacterial endocarditis) resulting from a dental procedure.

Patients with heart conditions (including weakened heart valves) are strongly advised to inform our office before undergoing any dental procedure. The proper antibiotic will prevent any unnecessary complications.
---
Dentistry Health Care That Works: Tobacco
The American Dental Association has long been a leader in the battle against tobacco-related disease, working to educate the public about the dangers inherent in tobacco use and encouraging dentists to help their patients break the cycle of addiction. The Association has continually strengthened and updated its tobacco policies as new scientific information has become available.
Smoking and Implants
Recent studies have shown that there is a direct link between oral tissue and bones loss and smoking. Tooth loss and edentulism are more common in smokers than in non-smokers. In addition, people who smoke are more likely to develop severe periodontal disease.

The formation of deep mucosal pockets with inflammation of the peri-implant mucosa around dental implants is called peri-implantitis. Smokers treated with dental implants have a greater risk of developing peri-implantitis. This condition can lead to increased resorption of peri-implant bone. If left untreated, peri-implantitis can lead to implant failure. In a recent international study, smokers showed a higher score in bleeding index with greater peri-implant pocket depth and radiographically discernible bone resorption around the implant, particularly in the maxilla.

Many studies have shown that smoking can lead to higher rates of dental implant failure. In general, smoking cessation usually leads to improved periodontal health and a patient's chance for successful implant acceptance.
---
External Links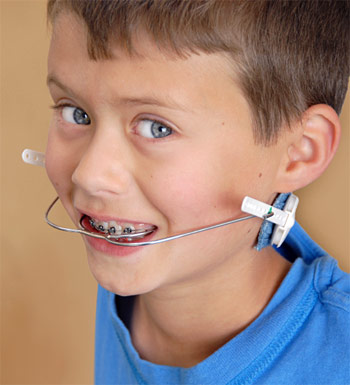 Sometimes, braces alone aren't enough to move teeth into a better position, or to correct trouble with the bite or remedy problems in the growth of the jaws. In those situations, special appliances may be recommended. Orthodontic headgear is the general name for an appliance, worn partly outside the mouth, which creates just enough force to move the teeth properly and guide the growth of the face and jaws.
There are several different types of orthodontic headgear, each designed to work best in a specific situation. A treatment program will be designed to address your individual needs, and select the most appropriate type of headgear; you will also be instructed on its use and care. It's important for you to follow instructions carefully so that you can achieve the best results from your treatment.
Types of Headgear
One common type of headgear is called the cervical pull type. This appliance has a U- shaped wire that attaches to the bands on your back teeth, and a strap that is worn behind your neck. A similar device is the high-pull headgear, which also has a wire connecting to the teeth, plus a strap that goes behind and over the head.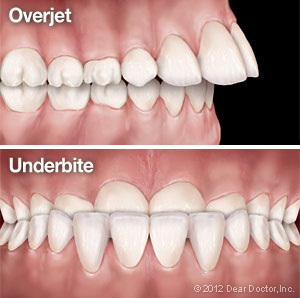 These types of headgear are typically used to correct an excessive horizontal overbite (technically called an "overjet") in children, by holding back the growth of the upper jaw. They can also be used for adults who need help maintaining a proper bite and correct tooth spacing after tooth extraction. Generally, these types of headgear are designed to be worn from 12-14 hours each day.
Another type of headgear is the reverse-pull or "facemask" type. This appliance is generally used to correct an underbite. It gently pulls the upper jaw forward (instead of back), which allows it to catch up with the lower jaw. It consists of two pads — one resting on the forehead, the other on the chin — connected by a vertical frame. Elastics or wires, which connect from the frame to the braces, exert the pulling force. It may be necessary to wear this appliance from 14-16 hours daily.
Making Headgear Work Depends on You
Whichever type of headgear you're wearing, there are some important things you should know. Probably the most essential one is this: In order for it to be effective, you must carefully follow instructions about wearing your headgear — that means putting it on each day for the time specified. If you wear headgear at night and you miss one night, you must make up the time the following day — otherwise, everything you've accomplished in the previous seven days of wear could be wiped out!
It's normal to feel some discomfort as you get used to wearing orthodontic headgear. Fortunately, if you wear it faithfully, the discomfort generally goes away in a few days. An over-the-counter pain reliever like Ibuprofen, and/or a soft diet, may be recommended to help you adjust.
From time to time you may also experience some soreness when chewing, or even a little looseness in the first molars. This is normal, and it shows the appliance is working. However, if you have unusual pain, notice that the anchor band on your first molar (the one the headgear attaches to) has come loose, or find that the headgear suddenly seems not to fit correctly, it could signal a problem that requires immediate attention.
Maintain Your Headgear — And Your Oral Health
To keep your orthodontic headgear working as it should — and to maintain your overall oral health — it's important that you follow all instructions about care and cleaning. It's also important that you learn to put headgear on and take it off properly and safely. Remember to bring it with you every time you have an orthodontic appointment — but leave it behind when you're playing sports, or even horsing around in the living room!
Wearing orthodontic headgear may seem like a big adjustment — and nobody would deny that it takes some getting used to. When everyone works together, it's possible to achieve your goal: a beautiful smile that you'll have for your whole lifetime.
Related Articles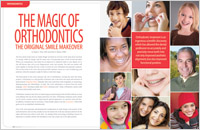 The Magic of Orthodontics Proper alignment of the teeth is basic to "Smile Design." Their position dictates how they work together and affects the way you look and smile. Only orthodontic treatment can move teeth into the right position. Simply put, when things look right, they probably are right. Learn the basics of smile analysis and design and whether the magic of orthodontics will work for you... Read Article