This section is dedicated to the latest information on oral health topics, culled from authoritative sources such as the American Dental Association.

Click here for the latest news from the American Dental Association.
---
Heart Disease
Poor dental hygiene can cause a host of problems outside your mouth-including your heart. Medical research has uncovered a definitive link between heart disease and certain kinds of oral infections such as periodontal disease. Some have even suggested that gum disease may be as dangerous as or more dangerous than other factors such as tobacco use. A condition called chronic periodontitis, or persistent gum disease, has been linked to cardiovascular problems by medical researchers.

In short, infections and harmful bacteria in your mouth can spread through the bloodstream to your liver, which produces harmful proteins that can lead to systemic cardiac problems. That's why it is critical to practice good oral hygiene to keep infections at bay-this includes a daily regimen of brushing, flossing and rinsing.
---
Antibiotic Prophylaxis
In some cases, patients with compromised immune systems or who fear an infection from a dental procedure may take antibiotics before visiting the dentist.

It is possible for bacteria from your mouth to enter your bloodstream during a dental procedure in which tissues are cut or bleeding occurs. A healthy immune system will normally fight such bacteria before they result in an infection. However, certain cardiovascular conditions in patients with weakened hearts could be at risk for an infection or heart muscle inflammation (bacterial endocarditis) resulting from a dental procedure.

Patients with heart conditions (including weakened heart valves) are strongly advised to inform our office before undergoing any dental procedure. The proper antibiotic will prevent any unnecessary complications.
---
Dentistry Health Care That Works: Tobacco
The American Dental Association has long been a leader in the battle against tobacco-related disease, working to educate the public about the dangers inherent in tobacco use and encouraging dentists to help their patients break the cycle of addiction. The Association has continually strengthened and updated its tobacco policies as new scientific information has become available.
Smoking and Implants
Recent studies have shown that there is a direct link between oral tissue and bones loss and smoking. Tooth loss and edentulism are more common in smokers than in non-smokers. In addition, people who smoke are more likely to develop severe periodontal disease.

The formation of deep mucosal pockets with inflammation of the peri-implant mucosa around dental implants is called peri-implantitis. Smokers treated with dental implants have a greater risk of developing peri-implantitis. This condition can lead to increased resorption of peri-implant bone. If left untreated, peri-implantitis can lead to implant failure. In a recent international study, smokers showed a higher score in bleeding index with greater peri-implant pocket depth and radiographically discernible bone resorption around the implant, particularly in the maxilla.

Many studies have shown that smoking can lead to higher rates of dental implant failure. In general, smoking cessation usually leads to improved periodontal health and a patient's chance for successful implant acceptance.
---
External Links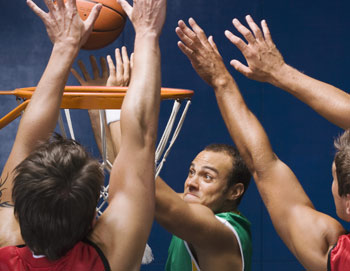 Traumatic dental injuries can occur in people of all ages and activity levels. The cause might be a car accident, a fall down the stairs, or an elbow to the face during a basketball game. As with most types of dental treatment, the primary goal when treating a traumatic dental injury is to save teeth at risk of being lost, and restore them to full function and normal appearance. In many cases, the difference between saving and losing a tooth depends on taking the proper action in the immediate aftermath of an injury. Here are some guidelines on how to prevent sports-related dental injuries and what to do after a dental injury occurs.
Sports-Related Dental Injuries
Americans of all ages love playing sports — so much so that participation in high school sports has been increasing for 24 consecutive years, according to one survey. Yet to gain the very real benefits that sports offer, it's necessary to accept — and prepare for — the risk of injury.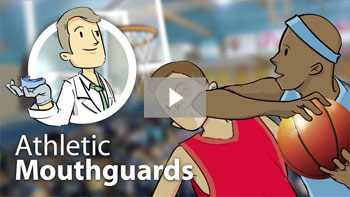 Dental trauma accounts for a significant portion of all sports injuries, yet so many of these injuries are preventable. How? With a high-quality mouthguard. When you consider that the lifetime cost of replacing a permanent tooth has been estimated to exceed $20,000, a good mouthguard is one of the best investments you can make in sports equipment: It has been shown to reduce the risk of sports-related dental injury by 60 times.
The best kind of mouthguard is one that comes from your dentist's office. It's custom-made from a model of your own teeth, so it's strong, lightweight, and perfectly fitted. If you (or your child) are active in sports, ask about this indispensable piece of safety gear. And continue reading below to find out what to do in the case of specific types of dental injuries.
Chipped or Broken Teeth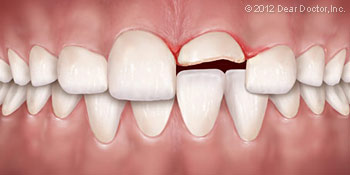 Chipped teeth are the most common dental injury, according to the American Association of Endodontists. If teeth have been chipped or fractured, or if they are loose or tender to the touch, make sure to see a dentist within 12 hours. Try to locate any pieces of the tooth that have come off, as it may be possible to reattach them to the crown with tooth-colored bonding material.
Knocked-Out Teeth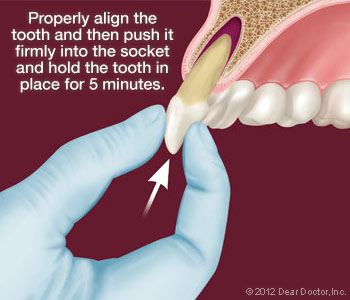 If a permanent tooth has been knocked out of its socket (avulsed), immediate attention is required. First, recover the tooth — and if it's dirty, gently clean it off with water. Try not to touch the root portion of the tooth. Next, if possible, place the tooth back into its socket (making sure it is in the proper orientation), and apply gentle, sustained pressure to the area for five minutes. You can use a wad of wet tissue or gauze to help grasp and hold the tooth in place. Get emergency dental treatment as soon as possible afterward, and be sure to check whether a tetanus shot or booster is needed.
If it isn't possible to replant the tooth, have the patient hold it between his teeth and cheek, or place it into a plastic bag with the patient's saliva, or into a cup of cold milk. Control bleeding from the tooth socket by applying pressure to the area (use gauze if possible), and get the patient and the tooth to an emergency treatment center as soon as possible. Primary (baby) teeth, however, don't usually need to be replanted.
Partially Displaced Teeth
If teeth are driven into or pushed partially out of the jaw, or if they are out of alignment, the patient should see a dentist or oral surgeon within six hours of the accident. A careful examination of the mouth (plus x-rays if needed) should reveal the extent of the damage, and indicate what restorative treatments are likely to be required.
Soft-Tissue Injuries
In addition to the teeth, dental injuries often involve damage to the gums, the tongue, and the inside of the mouth. When these soft-tissue injuries occur, it's best to take the following immediate actions, and then see a dentist as soon as possible: Wash and rinse the area with soap and water if possible, or remove debris and foreign material by hand. Bleeding can usually be controlled by applying direct, gentle pressure to gauze pads placed on the wound. If it can't be controlled after about 10 minutes, go to an emergency room.
Don't hesitate to call the dental office for more specific information about handling a traumatic dental injury.
Related Articles