This section is dedicated to the latest information on oral health topics, culled from authoritative sources such as the American Dental Association.

Click here for the latest news from the American Dental Association.
---
Heart Disease
Poor dental hygiene can cause a host of problems outside your mouth-including your heart. Medical research has uncovered a definitive link between heart disease and certain kinds of oral infections such as periodontal disease. Some have even suggested that gum disease may be as dangerous as or more dangerous than other factors such as tobacco use. A condition called chronic periodontitis, or persistent gum disease, has been linked to cardiovascular problems by medical researchers.

In short, infections and harmful bacteria in your mouth can spread through the bloodstream to your liver, which produces harmful proteins that can lead to systemic cardiac problems. That's why it is critical to practice good oral hygiene to keep infections at bay-this includes a daily regimen of brushing, flossing and rinsing.
---
Antibiotic Prophylaxis
In some cases, patients with compromised immune systems or who fear an infection from a dental procedure may take antibiotics before visiting the dentist.

It is possible for bacteria from your mouth to enter your bloodstream during a dental procedure in which tissues are cut or bleeding occurs. A healthy immune system will normally fight such bacteria before they result in an infection. However, certain cardiovascular conditions in patients with weakened hearts could be at risk for an infection or heart muscle inflammation (bacterial endocarditis) resulting from a dental procedure.

Patients with heart conditions (including weakened heart valves) are strongly advised to inform our office before undergoing any dental procedure. The proper antibiotic will prevent any unnecessary complications.
---
Dentistry Health Care That Works: Tobacco
The American Dental Association has long been a leader in the battle against tobacco-related disease, working to educate the public about the dangers inherent in tobacco use and encouraging dentists to help their patients break the cycle of addiction. The Association has continually strengthened and updated its tobacco policies as new scientific information has become available.
Smoking and Implants
Recent studies have shown that there is a direct link between oral tissue and bones loss and smoking. Tooth loss and edentulism are more common in smokers than in non-smokers. In addition, people who smoke are more likely to develop severe periodontal disease.

The formation of deep mucosal pockets with inflammation of the peri-implant mucosa around dental implants is called peri-implantitis. Smokers treated with dental implants have a greater risk of developing peri-implantitis. This condition can lead to increased resorption of peri-implant bone. If left untreated, peri-implantitis can lead to implant failure. In a recent international study, smokers showed a higher score in bleeding index with greater peri-implant pocket depth and radiographically discernible bone resorption around the implant, particularly in the maxilla.

Many studies have shown that smoking can lead to higher rates of dental implant failure. In general, smoking cessation usually leads to improved periodontal health and a patient's chance for successful implant acceptance.
---
External Links
There are many elements that make up an ideal smile; bright, healthy-looking teeth immediately come to mind. But the gum tissue that surrounds and supports those teeth also plays a big role in how appealing your smile will look.
There are various cosmetic issues involving gum (gingival) tissue. For example, your smile may look "gummy" — meaning you seem to display too much gum tissue when you smile, or your teeth appear too short. Sometimes it's the opposite problem — your teeth appear too long because your gum tissue has receded (pulled back), exposing tooth-root surfaces that were covered at one time. Or, you may have an uneven gum line, meaning gum tissue covers some of your teeth more than others. All of these cosmetic gum problems can be successfully treated with cosmetic procedures performed in the dental office.
Cosmetic Gum Problems
Excess Tissue. A gummy smile can be caused by excessive gum tissue covering more enamel surface of a tooth's crown (upper portion) than normal. If that is the case, a procedure known as "crown lengthening" can be performed, in which gum tissue (and sometimes a small amount of bone tissue) is removed to expose more tooth surface.
Receding Gums. Sometimes your gums can shrink down (recede), exposing a portion of your tooth roots. This causes a cosmetic problem because root surfaces, which have no enamel covering, tend to appear more yellow than the crowns of your teeth. Also, exposed roots can be more sensitive to cold or touch, and can be at greater risk of decay. There are various gum-grafting procedures that can cover exposed roots, all of which involve moving gingival (gum) tissue from one site in the mouth to another. For example, roots can be covered with tissue from the roof of your mouth, which is of the same type; or adjacent (nearby) tissue can be moved over to cover an exposed root. Sometimes laboratory-processed tissue from another donor can even be used. All of these options can be discussed with you in more detail.
Uneven Gum Line. If you have an uneven gum line where some teeth are covered by more tissue than others, it is often possible to recontour (reshape) the tissue for a very pleasing effect. This can be done conventionally with a surgical scalpel or with newer dental laser technology. The advantage of a laser is that it seals the tissue as it sculpts it, making the procedure more comfortable and requiring a shorter healing time.
What to Expect
All cosmetic gum surgery can be performed at the dental office — and it usually requires only a local anesthetic (numbing shot). In fact, for laser surgery you may need only a topical anesthetic applied in gel form. If you would like a deeper level of relaxation, you can have oral or possibly even an IV sedative; but if this is required, you will need a ride home. Laser surgery leaves no open wounds and causes minimal, if any, discomfort, though the anatomy of the area may preclude laser use. An examination is required to determine whether conventional or laser treatment is in your best interests.
Grafts may take longer to heal, particularly if tissue is taken from the roof of your mouth. If that's the case, you will have two sites that need to heal: the donor site from which the tissue was taken, and the recipient site where the tissue was attached. Both of these sites will require stitches, usually of the dissolving type. You will need to eat a softer diet and avoid chewing on that side of your mouth for a few days. Though full healing may take a few weeks, you will be able to resume your normal activities the very next day. Whichever kind of cosmetic gum surgery you may need, the procedures are routine and predictable — and they can do wonders for your smile!
Related Articles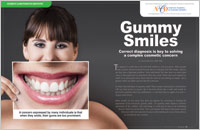 Gummy Smiles Sometimes a smile doesn't look as appealing as it could because the gums appear too prominent. If this describes your smile and it's something you want to change, chances are you can be helped by one of several available treatments. But first your dentist will need to determine exactly why your smile looks gummy to begin with. Find out the various causes and treatments... Read Article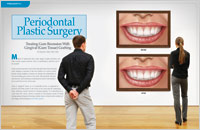 Periodontal Plastic Surgery Millions of Americans have some degree of gum recession — a loss of the tough, pink tissue that surrounds teeth. Receding gums can cause anything from minor tooth sensitivity to tooth loss in very severe cases. Fortunately, the field of periodontal plastic surgery has made enormous strides in devising techniques, including grafting, to deal with the problem of lost or damaged gum tissue... Read Article