This section is dedicated to the latest information on oral health topics, culled from authoritative sources such as the American Dental Association.

Click here for the latest news from the American Dental Association.
---
Heart Disease
Poor dental hygiene can cause a host of problems outside your mouth-including your heart. Medical research has uncovered a definitive link between heart disease and certain kinds of oral infections such as periodontal disease. Some have even suggested that gum disease may be as dangerous as or more dangerous than other factors such as tobacco use. A condition called chronic periodontitis, or persistent gum disease, has been linked to cardiovascular problems by medical researchers.

In short, infections and harmful bacteria in your mouth can spread through the bloodstream to your liver, which produces harmful proteins that can lead to systemic cardiac problems. That's why it is critical to practice good oral hygiene to keep infections at bay-this includes a daily regimen of brushing, flossing and rinsing.
---
Antibiotic Prophylaxis
In some cases, patients with compromised immune systems or who fear an infection from a dental procedure may take antibiotics before visiting the dentist.

It is possible for bacteria from your mouth to enter your bloodstream during a dental procedure in which tissues are cut or bleeding occurs. A healthy immune system will normally fight such bacteria before they result in an infection. However, certain cardiovascular conditions in patients with weakened hearts could be at risk for an infection or heart muscle inflammation (bacterial endocarditis) resulting from a dental procedure.

Patients with heart conditions (including weakened heart valves) are strongly advised to inform our office before undergoing any dental procedure. The proper antibiotic will prevent any unnecessary complications.
---
Dentistry Health Care That Works: Tobacco
The American Dental Association has long been a leader in the battle against tobacco-related disease, working to educate the public about the dangers inherent in tobacco use and encouraging dentists to help their patients break the cycle of addiction. The Association has continually strengthened and updated its tobacco policies as new scientific information has become available.
Smoking and Implants
Recent studies have shown that there is a direct link between oral tissue and bones loss and smoking. Tooth loss and edentulism are more common in smokers than in non-smokers. In addition, people who smoke are more likely to develop severe periodontal disease.

The formation of deep mucosal pockets with inflammation of the peri-implant mucosa around dental implants is called peri-implantitis. Smokers treated with dental implants have a greater risk of developing peri-implantitis. This condition can lead to increased resorption of peri-implant bone. If left untreated, peri-implantitis can lead to implant failure. In a recent international study, smokers showed a higher score in bleeding index with greater peri-implant pocket depth and radiographically discernible bone resorption around the implant, particularly in the maxilla.

Many studies have shown that smoking can lead to higher rates of dental implant failure. In general, smoking cessation usually leads to improved periodontal health and a patient's chance for successful implant acceptance.
---
External Links
Of all the ways modern dentistry has to replace missing teeth, dental implants are by far the best. There is no tooth-replacement option that will give you a longer-lasting result. Implants also help preserve tooth-supporting bone that naturally deteriorates when a tooth is lost. Loss of bone is one of the major hidden consequences of losing teeth.
A dental implant most often takes the form of a small, screw-shaped titanium post that replaces the root-part of a missing tooth. The surgical procedure used to place an implant is actually quite minor and routine, requiring only local anesthesia in most cases. After a healing period, the implant is topped with a lifelike crown custom-made to match your existing natural teeth. Implants have a documented success rate of over 95%, which is significantly higher than any other tooth-replacement option.
How Implants Work
During a minor surgical procedure, your dental implant is inserted directly into the jawbone in the space vacated by the missing tooth. It will then be left to heal for a period of months before the final crown is attached. During this healing period, the implant actually fuses to the bone surrounding it.
Tooth Replacement Options Using Dental Implants
Implants can replace missing teeth in a variety of ways. They can be used to:
Replace One Tooth — When you have one tooth missing, a single implant is inserted into the bone to replace the root part of that tooth; a crown then goes on top to simulate an actual tooth. This treatment choice has the highest success rate, making it the best long-term investment for replacing a single missing tooth. Even if the initial cost is slightly higher than other options, it is the most cost-effective solution over time. An implant will never decay or need root canal treatment, and feels just like the tooth that was there.
Replace Multiple Teeth — When you have more than one tooth missing, implants provide an ideal replacement mechanism. You don't even need one implant for every missing tooth. Instead, implant teeth can act as supports for fixed bridgework. For example, if you are missing three teeth in a row, we can place two implants, one on either side of the gap, and a crown in between that has no implant underneath. That way, you won't need to use any of your remaining natural teeth as bridge supports, which could weaken them and make them more susceptible to decay.
Replace All Teeth Permanently — Implants can support an entire arch of upper or lower replacement teeth that are fixed into the mouth and are never removed. Sometimes the new teeth can be supported by as few as 4 implants. It's comparable to the structure of a table, which only needs 4 legs to hold it up. In cases where jawbone density and volume have deteriorated, 5 or 6 implants might be needed to support a row of 10 to 12 teeth. Dental implant replacement teeth protect your jawbone, won't slip, and should last a lifetime.
Support Removable Dentures — Implants can even make removable dentures more comfortable, effective and healthier to wear. Traditional dentures rest on the gums and put pressure on the underlying bone. This accelerates bone loss so that the jaw shrinks and the dentures slip, particularly on the bottom. But today dentists can attach a removable denture onto implants, transferring that pressure into the bone structure rather than the bone surface. This prevents the dentures from slipping while you eat and speak, and preserves the bone directly beneath them.
Implant Care and Maintenance
There are only two ways an implant can lose attachment to the bone and fail once it has successfully fused: poor oral hygiene or excessive biting forces. Poor oral hygiene and/or a lack of regular cleanings can lead to a destructive bacterial infection called peri-implantitis. Flossing and brushing your teeth on a daily basis, along with regular professional cleanings, can prevent this. Excessive biting forces can come from either a habit of clenching or grinding your teeth, or an insufficient number of implants to handle the forces generated by your bite. You should receive the correct number of implants so this does not happen. And if you have a habit of grinding or clenching your teeth, a nightguard will be recommended to protect your implants. After all, implants are a long-term investment in your smile, your health and your well-being, so it's best to protect your investment.
Related Articles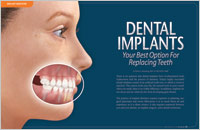 Dental Implants – Your Best Option For Replacing Teeth Dental implants have many advantages over older methods of tooth replacement like bridges and dentures — from the way they function and feel to the way they look and last. Vigorous research has documented and confirmed that in the right situations, dental implant success rates are over 95%. It is no exaggeration to say that they have revolutionized dentistry. They may even change your life... Read Article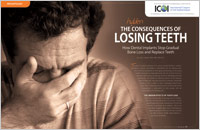 The Hidden Consequences of Losing Teeth For those missing even one tooth, an unsightly gap is actually the least significant problem. What's of far greater concern is the bone loss that inevitably follows tooth loss. Dental implants can preserve bone, improve function and enhance psychological well-being. Learn how implants serve both as anchors to support replacement teeth and preserve bone... Read Article