This section is dedicated to the latest information on oral health topics, culled from authoritative sources such as the American Dental Association.

Click here for the latest news from the American Dental Association.
---
Heart Disease
Poor dental hygiene can cause a host of problems outside your mouth-including your heart. Medical research has uncovered a definitive link between heart disease and certain kinds of oral infections such as periodontal disease. Some have even suggested that gum disease may be as dangerous as or more dangerous than other factors such as tobacco use. A condition called chronic periodontitis, or persistent gum disease, has been linked to cardiovascular problems by medical researchers.

In short, infections and harmful bacteria in your mouth can spread through the bloodstream to your liver, which produces harmful proteins that can lead to systemic cardiac problems. That's why it is critical to practice good oral hygiene to keep infections at bay-this includes a daily regimen of brushing, flossing and rinsing.
---
Antibiotic Prophylaxis
In some cases, patients with compromised immune systems or who fear an infection from a dental procedure may take antibiotics before visiting the dentist.

It is possible for bacteria from your mouth to enter your bloodstream during a dental procedure in which tissues are cut or bleeding occurs. A healthy immune system will normally fight such bacteria before they result in an infection. However, certain cardiovascular conditions in patients with weakened hearts could be at risk for an infection or heart muscle inflammation (bacterial endocarditis) resulting from a dental procedure.

Patients with heart conditions (including weakened heart valves) are strongly advised to inform our office before undergoing any dental procedure. The proper antibiotic will prevent any unnecessary complications.
---
Dentistry Health Care That Works: Tobacco
The American Dental Association has long been a leader in the battle against tobacco-related disease, working to educate the public about the dangers inherent in tobacco use and encouraging dentists to help their patients break the cycle of addiction. The Association has continually strengthened and updated its tobacco policies as new scientific information has become available.
Smoking and Implants
Recent studies have shown that there is a direct link between oral tissue and bones loss and smoking. Tooth loss and edentulism are more common in smokers than in non-smokers. In addition, people who smoke are more likely to develop severe periodontal disease.

The formation of deep mucosal pockets with inflammation of the peri-implant mucosa around dental implants is called peri-implantitis. Smokers treated with dental implants have a greater risk of developing peri-implantitis. This condition can lead to increased resorption of peri-implant bone. If left untreated, peri-implantitis can lead to implant failure. In a recent international study, smokers showed a higher score in bleeding index with greater peri-implant pocket depth and radiographically discernible bone resorption around the implant, particularly in the maxilla.

Many studies have shown that smoking can lead to higher rates of dental implant failure. In general, smoking cessation usually leads to improved periodontal health and a patient's chance for successful implant acceptance.
---
External Links
Teeth whitening is one of the most popular cosmetic dental treatments — and it's easy to see why. Having whiter teeth can make you look years younger, and the procedure itself is among the most conservative (and cost-effective) cosmetic treatments dentistry offers. Sometimes, however, achieving a pleasing, even shade of lightness can be challenging; this is particularly true when a tooth that needs to be lightened has been subjected to an injury (dental trauma) in the past.
Dental trauma encompasses any damage to the tooth that's caused by an external agent, whether accidental or intended. It may be due to a fall, a sports injury — or even a past orthodontic procedure. According to some studies, around a quarter of Americans aged 6 to 50 years old have experienced some traumatic dental injury, with most occurring before age 19. Traumatized teeth may react to whitening procedures differently from undamaged teeth, which can make them difficult to treat. However, several effective treatments are available.
Diagnosing a Discolored Tooth
The first step in the process of lightening a traumatized tooth is a thorough exam to find out what's causing the dark staining — and one of the first things we will determine is whether or not the tooth's pulp is "vital," or alive. This is readily revealed by radiographs (x-rays) or other tests. If the tooth is still vital, external bleaching can often yield satisfactory results — even if it's just one tooth that needs to be whitened. In-office treatments or take-home trays are effective, but office procedures generally take much less time to produce good results.
In many cases, however, discoloration of a traumatized tooth is itself an indication that the nerves in the tooth's pulp have died. In this case, before whitening treatment can start, a root canal procedure will be necessary to remove the dead or dying tissue and prevent infection. It can also happen that a tooth that appeared normal will begin to discolor many months (or years) after a root canal has been performed. In either situation, it may be possible to whiten a non-vital tooth with a procedure called internal bleaching.
Whitening From the Inside Out
Because a non-vital tooth's stains are intrinsic (inside, rather than outside, the tooth), we need to put the bleaching agent itself inside the tooth. Internal bleaching is a routine procedure, here's how it works:
Access to the pulp chamber (the small passageway in the tooth's center) will be gained by making a small hole in the back of the tooth. Then, any debris from the chamber will be removed and rinsed away, and a special cement will be added to prevent the bleaching agent from leaking into the tooth's roots.
Next, some bleaching agent (commonly sodium perborate) will be placed in the empty pulp chamber, and temporarily seal it in. At this point, you can get up and leave the office… which is why this procedure is sometimes called the "walking bleach" technique. However, you'll return in a few days for another round of bleaching; it may take up to four visits to get the degree of lightening you want.
When the tooth reaches the desired color change, a more permanent restoration will be placed on the tooth to seal that little hole — usually a tooth-colored filling material of composite resin. Many times, this relatively conservative procedure will give your tooth all the lightening it needs. If it's not enough, the tooth can be bleached externally as well, or you can even consider a veneer or crown. The goal is to recommend the most appropriate cosmetic dental procedure, and get you the best possible results.
Related Articles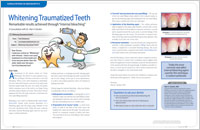 Whitening Traumatized Teeth Sometimes teeth that have had root canal treatment darken over time. These teeth may not respond to the usual methods of whitening, but they can often be successfully bleached from the inside. This offers a more conservative option than using a veneer or crown to cover the discoloration... Read Article