This section is dedicated to the latest information on oral health topics, culled from authoritative sources such as the American Dental Association.

Click here for the latest news from the American Dental Association.
---
Heart Disease
Poor dental hygiene can cause a host of problems outside your mouth-including your heart. Medical research has uncovered a definitive link between heart disease and certain kinds of oral infections such as periodontal disease. Some have even suggested that gum disease may be as dangerous as or more dangerous than other factors such as tobacco use. A condition called chronic periodontitis, or persistent gum disease, has been linked to cardiovascular problems by medical researchers.

In short, infections and harmful bacteria in your mouth can spread through the bloodstream to your liver, which produces harmful proteins that can lead to systemic cardiac problems. That's why it is critical to practice good oral hygiene to keep infections at bay-this includes a daily regimen of brushing, flossing and rinsing.
---
Antibiotic Prophylaxis
In some cases, patients with compromised immune systems or who fear an infection from a dental procedure may take antibiotics before visiting the dentist.

It is possible for bacteria from your mouth to enter your bloodstream during a dental procedure in which tissues are cut or bleeding occurs. A healthy immune system will normally fight such bacteria before they result in an infection. However, certain cardiovascular conditions in patients with weakened hearts could be at risk for an infection or heart muscle inflammation (bacterial endocarditis) resulting from a dental procedure.

Patients with heart conditions (including weakened heart valves) are strongly advised to inform our office before undergoing any dental procedure. The proper antibiotic will prevent any unnecessary complications.
---
Dentistry Health Care That Works: Tobacco
The American Dental Association has long been a leader in the battle against tobacco-related disease, working to educate the public about the dangers inherent in tobacco use and encouraging dentists to help their patients break the cycle of addiction. The Association has continually strengthened and updated its tobacco policies as new scientific information has become available.
Smoking and Implants
Recent studies have shown that there is a direct link between oral tissue and bones loss and smoking. Tooth loss and edentulism are more common in smokers than in non-smokers. In addition, people who smoke are more likely to develop severe periodontal disease.

The formation of deep mucosal pockets with inflammation of the peri-implant mucosa around dental implants is called peri-implantitis. Smokers treated with dental implants have a greater risk of developing peri-implantitis. This condition can lead to increased resorption of peri-implant bone. If left untreated, peri-implantitis can lead to implant failure. In a recent international study, smokers showed a higher score in bleeding index with greater peri-implant pocket depth and radiographically discernible bone resorption around the implant, particularly in the maxilla.

Many studies have shown that smoking can lead to higher rates of dental implant failure. In general, smoking cessation usually leads to improved periodontal health and a patient's chance for successful implant acceptance.
---
External Links
Toothpaste: It's something most people use every day, but rarely give much thought to — except, perhaps, when choosing from among the dozens of brands that line the drugstore shelf. Is there any difference between them? What's toothpaste made of… and does it really do what it promises on the box? To answer those questions, let's take a closer look inside the tube.
The soft, slightly grainy paste that you squeeze on your brush is the latest in a long line of tooth-cleaning substances whose first recorded use was around the time of the ancient Egyptians. Those early mixtures had ingredients like crushed bones, pumice and ashes — but you won't find that any more. Modern toothpastes have evolved into an effective means of cleaning teeth and preventing decay. Today, most have a similar set of active ingredients, including:
Abrasives, which help remove surface deposits and stains from teeth, and make the mechanical action of brushing more effective. They typically include gentle cleaning and polishing agents like hydrated silica or alumina, calcium carbonate or dicalcium phosphate.
Detergents, such as sodium lauryl sulfate, which produce the bubbly foam you may notice when brushing vigorously. They help to break up and dissolve substances that would normally be hard to wash away, just like they do in the laundry — but with far milder ingredients.
Fluoride, the vital tooth-protective ingredient in toothpaste. Whether it shows up as sodium fluoride, stannous fluoride or sodium monofluorophosphate (MFP), fluoride has been conclusively proven to help strengthen tooth enamel and prevent decay.
Besides their active ingredients, most toothpastes also contain preservatives, binders, and flavorings — without which they would tend to dry out, separate… or taste awful. In addition, some specialty toothpastes have additional ingredients for therapeutic purposes.
Whitening toothpastes generally contain special abrasives or enzymes designed to help remove stains on the tooth's surfaces. Whether or not they will work for you depends on why your teeth aren't white in the first place: If it's an extrinsic (surface) stain, they can be effective; however, they probably won't help with intrinsic (internal) discoloration, which may require a professional whitening treatment.
Toothpastes for sensitive teeth often include ingredients like potassium nitrate or strontium chloride, which can block sensations of pain. Teeth may become sensitive when dentin (the material within the tooth, which is normally covered by enamel, or by the gums) becomes exposed in the mouth. These ingredients can make brushing less painful, but it may take a few weeks until you really notice their effects.
What's the best way to choose a toothpaste? The main thing you should look for is the American Dental Association (ADA) Seal of Acceptance on the label. It means that the toothpaste contains fluoride — and that the manufacturer's other claims have been independently tested and verified.
But once you've chosen your favorite, keep this bit of dental wisdom in mind: It's not the brush (or the paste) that keeps your mouth healthy — it's the hand that holds it. Don't forget that regular brushing is one of the best ways to prevent tooth decay and maintain good oral hygiene.
Related Articles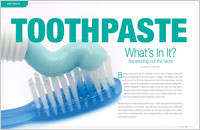 Toothpaste It's something we put in our mouths every day. Yet for those who actually take the time to read that list of ingredients, it can be hard to figure out what it all means. Dear Doctor magazine breaks it all down and reveals a great way to be sure the claims written on the label can be trusted... Read Article