This section is dedicated to the latest information on oral health topics, culled from authoritative sources such as the American Dental Association.

Click here for the latest news from the American Dental Association.
---
Heart Disease
Poor dental hygiene can cause a host of problems outside your mouth-including your heart. Medical research has uncovered a definitive link between heart disease and certain kinds of oral infections such as periodontal disease. Some have even suggested that gum disease may be as dangerous as or more dangerous than other factors such as tobacco use. A condition called chronic periodontitis, or persistent gum disease, has been linked to cardiovascular problems by medical researchers.

In short, infections and harmful bacteria in your mouth can spread through the bloodstream to your liver, which produces harmful proteins that can lead to systemic cardiac problems. That's why it is critical to practice good oral hygiene to keep infections at bay-this includes a daily regimen of brushing, flossing and rinsing.
---
Antibiotic Prophylaxis
In some cases, patients with compromised immune systems or who fear an infection from a dental procedure may take antibiotics before visiting the dentist.

It is possible for bacteria from your mouth to enter your bloodstream during a dental procedure in which tissues are cut or bleeding occurs. A healthy immune system will normally fight such bacteria before they result in an infection. However, certain cardiovascular conditions in patients with weakened hearts could be at risk for an infection or heart muscle inflammation (bacterial endocarditis) resulting from a dental procedure.

Patients with heart conditions (including weakened heart valves) are strongly advised to inform our office before undergoing any dental procedure. The proper antibiotic will prevent any unnecessary complications.
---
Dentistry Health Care That Works: Tobacco
The American Dental Association has long been a leader in the battle against tobacco-related disease, working to educate the public about the dangers inherent in tobacco use and encouraging dentists to help their patients break the cycle of addiction. The Association has continually strengthened and updated its tobacco policies as new scientific information has become available.
Smoking and Implants
Recent studies have shown that there is a direct link between oral tissue and bones loss and smoking. Tooth loss and edentulism are more common in smokers than in non-smokers. In addition, people who smoke are more likely to develop severe periodontal disease.

The formation of deep mucosal pockets with inflammation of the peri-implant mucosa around dental implants is called peri-implantitis. Smokers treated with dental implants have a greater risk of developing peri-implantitis. This condition can lead to increased resorption of peri-implant bone. If left untreated, peri-implantitis can lead to implant failure. In a recent international study, smokers showed a higher score in bleeding index with greater peri-implant pocket depth and radiographically discernible bone resorption around the implant, particularly in the maxilla.

Many studies have shown that smoking can lead to higher rates of dental implant failure. In general, smoking cessation usually leads to improved periodontal health and a patient's chance for successful implant acceptance.
---
External Links
We are proud of the ways in which dentistry can restore broken or decayed teeth to full beauty and function. One of the easiest and least expensive ways of doing this is with dental bonding.
Bonding uses tooth-colored materials to replace missing tooth structure or hide cosmetically unappealing minor defects in a tooth — chips, discoloration, and even minor spacing irregularities. Bonding materials are called "composite resins" because they contain a mixture of plastic and glass, which adds strength and translucency. The composite actually bonds, or becomes one, with the rest of the tooth.
Composite resins come in a variety of tooth shades for truly lifelike results. When bonding is done with a skilled hand and an artistic eye, it may be impossible to distinguish the bonded tooth from its neighbors. Though bonding will not last as long as a dental veneer, it also does not require the involvement of a dental laboratory and, most often, can be done without drilling of the tooth. It's a particularly good solution for teens, who often need to wait until their teeth have finished maturing before choosing a more permanent type of dental restoration.
The Bonding Process
Because it does not involve dental laboratory work, tooth bonding can usually be accomplished in a single visit to the dental office. Expect the whole procedure to take 30 minutes to an hour. First, the surface of the tooth to be bonded will be cleaned so it is plaque-free. The surface will then need to be "etched" with an acidic gel that opens up tiny pores in the surface. After the etching gel is rinsed off, the liquid composite resin in a well-matched shade is painted on in a thin layer, filling these tiny pores to create a strong micromechanical bond. A special curing light is used to harden this bonding material. Once the first layer is cured, another layer is painted on and cured. Layers can continue to be built up until the restoration has the necessary thickness. The bonding material is then shaped using a dental drill to give it just the right form. Once the tooth not only looks great but fits in perfectly with your bite, it will receive a final polishing.
Caring for Bonded Teeth
Bonded teeth should be brushed and flossed daily, and professionally cleaned at the dental office twice per year, just the same as the rest of your teeth. The most important thing to keep in mind about caring for your bonded tooth is that composite resin can absorb stain, just as natural teeth can. Therefore, you will want to avoid smoking, red wine, coffee and tea to the extent possible. Also, while composite can darken, it cannot be lightened. So if you are thinking about having your teeth whitened, it should be done before your tooth is bonded so that a composite shade can be selected to match the lighter color of your whitened teeth. If you whiten your teeth after bonding, the bonded tooth may not match all the rest. Finally, try not to bite your nails, hold writing implements in your mouth, or use your teeth in other ways that could put excessive force on the bonding material and chip it. With proper care, a bonded tooth should stay beautiful for 3 to 10 years.
Related Articles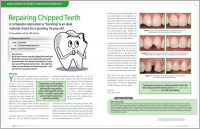 Repairing Chipped Teeth A composite restoration or "bonding" is an ideal material choice for a growing teenager. Composites can be made in a wide range of tooth colors allowing for near perfect color matching with existing teeth — in artistic hands they can be made to look very natural and lifelike... Read Article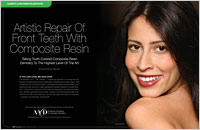 Artistic Repair of Front Teeth With Composite Resin Cosmetic dentistry is about creating invisible art — recreating teeth that look totally natural so that no one can tell the difference! It involves a detailed understanding of natural tooth composition and form, choosing the right composite resin to rebuild and restore lost tooth structure, and understanding light and color. Oh, and a dental artist who can put them all together... Read Article