This section is dedicated to the latest information on oral health topics, culled from authoritative sources such as the American Dental Association.

Click here for the latest news from the American Dental Association.
---
Heart Disease
Poor dental hygiene can cause a host of problems outside your mouth-including your heart. Medical research has uncovered a definitive link between heart disease and certain kinds of oral infections such as periodontal disease. Some have even suggested that gum disease may be as dangerous as or more dangerous than other factors such as tobacco use. A condition called chronic periodontitis, or persistent gum disease, has been linked to cardiovascular problems by medical researchers.

In short, infections and harmful bacteria in your mouth can spread through the bloodstream to your liver, which produces harmful proteins that can lead to systemic cardiac problems. That's why it is critical to practice good oral hygiene to keep infections at bay-this includes a daily regimen of brushing, flossing and rinsing.
---
Antibiotic Prophylaxis
In some cases, patients with compromised immune systems or who fear an infection from a dental procedure may take antibiotics before visiting the dentist.

It is possible for bacteria from your mouth to enter your bloodstream during a dental procedure in which tissues are cut or bleeding occurs. A healthy immune system will normally fight such bacteria before they result in an infection. However, certain cardiovascular conditions in patients with weakened hearts could be at risk for an infection or heart muscle inflammation (bacterial endocarditis) resulting from a dental procedure.

Patients with heart conditions (including weakened heart valves) are strongly advised to inform our office before undergoing any dental procedure. The proper antibiotic will prevent any unnecessary complications.
---
Dentistry Health Care That Works: Tobacco
The American Dental Association has long been a leader in the battle against tobacco-related disease, working to educate the public about the dangers inherent in tobacco use and encouraging dentists to help their patients break the cycle of addiction. The Association has continually strengthened and updated its tobacco policies as new scientific information has become available.
Smoking and Implants
Recent studies have shown that there is a direct link between oral tissue and bones loss and smoking. Tooth loss and edentulism are more common in smokers than in non-smokers. In addition, people who smoke are more likely to develop severe periodontal disease.

The formation of deep mucosal pockets with inflammation of the peri-implant mucosa around dental implants is called peri-implantitis. Smokers treated with dental implants have a greater risk of developing peri-implantitis. This condition can lead to increased resorption of peri-implant bone. If left untreated, peri-implantitis can lead to implant failure. In a recent international study, smokers showed a higher score in bleeding index with greater peri-implant pocket depth and radiographically discernible bone resorption around the implant, particularly in the maxilla.

Many studies have shown that smoking can lead to higher rates of dental implant failure. In general, smoking cessation usually leads to improved periodontal health and a patient's chance for successful implant acceptance.
---
External Links
Occasionally, root canal treatment proves unsuccessful at resolving an infection in the tissues near a tooth's roots. That's when a minor surgical procedure called an apicoectomy may be recommended. Because this procedure is often performed with the aid of a microscope and other small specialized tools, it's considered a type of endodontic microsurgery. Probably the most common type of root canal surgery, an apicoectomy involves removing a small portion of the apex (tip) of the tooth's root, along with any surrounding hard or soft tissue that may be infected.
What would cause you to need an apicoectomy? There could be several reasons, including a canal that is blocked or inaccessible, an anatomical irregularity, or a fracture or crack in the tooth's roots. The procedure is normally only recommended after one or more root canal treatments have been attempted, and have failed. Since this type of problem generally occurs near the apex of the root, the procedure is often an effective way to treat a persistent infection.
Before an apicoectomy procedure, diagnostic images (such as X-rays) of the affected tooth and surrounding bone, a careful review of your medical history including medications you take (both prescription and non-prescription), and other factors are reviewed. If an apicoectomy is recommended, the reasons for it will be explained to you.
The Apicoectomy Procedure
Root canal surgery is usually performed under local anesthesia such as a numbing shot, so you won't feel any pain. To begin the procedure, a small incision is made in the gum, and the infection at the end of the tooth's roots is exposed. The infected tissue is then removed, along with a few millimeters of the root tip itself. A dye may be used to help make cracks or fractures easy to see; if we discover that the tooth is fractured, it may be better to extract (remove) it at this time instead of completing the apicoectomy.
Next, a microscope and light are used to examine the tiny canals. They will be cleaned with an ultrasonic instrument, then filled with an inert material and sealed up with a small filling. To finish the procedure, a small bone graft may be placed at the affected site, and then the gum tissue covering the tooth's root will be sutured (sewn) closed. X-rays may also be taken as the procedure nears completion. Afterwards, instructions on postoperative care will be given, and you'll go home. Most apicoectomies take about 30 to 90 minutes to complete.
Following the procedure, you may experience some swelling and soreness in the area that was treated. Over-the-counter non-steroidal anti-inflammatory medications (such as ibuprofen) are usually all that's needed to control any discomfort. You can probably return to normal activities the following day, but you may want to avoid eating hard or crunchy foods or brushing vigorously for a few days afterwards. If your sutures aren't self-dissolving, you will be asked to return in about a week to have them removed.
The Goal: Saving Your Tooth
Although apicoectomy is typically a safe and effective procedure, there are slight risks with any type of minor surgery. That's why apicoectomies are not recommended unless further root canal treatment won't be effective. An alternative treatment in most cases would be extraction of the tooth. However, our goal as dentists is to help you preserve your natural teeth for as long as possible.
While there are excellent methods of tooth replacement (such as dental implants), these involve further and more complex treatments, and they can be costly. An apicoectomy is generally a permanent and cost-effective solution which can help the tooth last for the rest of your life.
Related Articles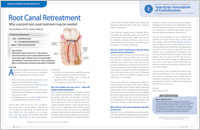 Root Canal Retreatment As occasionally happens with any dental or medical procedure, a tooth may not heal as anticipated after a root canal treatment. In these cases, it's often possible to save the tooth with a second root canal procedure... Read Article
Common Concerns About Root Canal Treatment The term "root canal" can send shivers down many a spine. However, preconceived notions that root canal treatment is filled with pain and discomfort are nothing more than outdated myths. In fact, root canal treatment doesn't cause pain but actually relieves it... Read Article