This section is dedicated to the latest information on oral health topics, culled from authoritative sources such as the American Dental Association.

Click here for the latest news from the American Dental Association.
---
Heart Disease
Poor dental hygiene can cause a host of problems outside your mouth-including your heart. Medical research has uncovered a definitive link between heart disease and certain kinds of oral infections such as periodontal disease. Some have even suggested that gum disease may be as dangerous as or more dangerous than other factors such as tobacco use. A condition called chronic periodontitis, or persistent gum disease, has been linked to cardiovascular problems by medical researchers.

In short, infections and harmful bacteria in your mouth can spread through the bloodstream to your liver, which produces harmful proteins that can lead to systemic cardiac problems. That's why it is critical to practice good oral hygiene to keep infections at bay-this includes a daily regimen of brushing, flossing and rinsing.
---
Antibiotic Prophylaxis
In some cases, patients with compromised immune systems or who fear an infection from a dental procedure may take antibiotics before visiting the dentist.

It is possible for bacteria from your mouth to enter your bloodstream during a dental procedure in which tissues are cut or bleeding occurs. A healthy immune system will normally fight such bacteria before they result in an infection. However, certain cardiovascular conditions in patients with weakened hearts could be at risk for an infection or heart muscle inflammation (bacterial endocarditis) resulting from a dental procedure.

Patients with heart conditions (including weakened heart valves) are strongly advised to inform our office before undergoing any dental procedure. The proper antibiotic will prevent any unnecessary complications.
---
Dentistry Health Care That Works: Tobacco
The American Dental Association has long been a leader in the battle against tobacco-related disease, working to educate the public about the dangers inherent in tobacco use and encouraging dentists to help their patients break the cycle of addiction. The Association has continually strengthened and updated its tobacco policies as new scientific information has become available.
Smoking and Implants
Recent studies have shown that there is a direct link between oral tissue and bones loss and smoking. Tooth loss and edentulism are more common in smokers than in non-smokers. In addition, people who smoke are more likely to develop severe periodontal disease.

The formation of deep mucosal pockets with inflammation of the peri-implant mucosa around dental implants is called peri-implantitis. Smokers treated with dental implants have a greater risk of developing peri-implantitis. This condition can lead to increased resorption of peri-implant bone. If left untreated, peri-implantitis can lead to implant failure. In a recent international study, smokers showed a higher score in bleeding index with greater peri-implant pocket depth and radiographically discernible bone resorption around the implant, particularly in the maxilla.

Many studies have shown that smoking can lead to higher rates of dental implant failure. In general, smoking cessation usually leads to improved periodontal health and a patient's chance for successful implant acceptance.
---
External Links
Numerous studies have shown that using an appropriate mouthrinse, in conjunction with regular brushing and flossing, is an easy and effective way for you to improve your overall oral health. As part of a regular program of oral hygiene, mouthrinses (which are sometimes called mouthwashes) can be effective at reducing plaque, controlling bad breath, and helping to prevent tooth decay and gum disease. There are a myriad of mouthrinses lining the drugstore shelves, and they are available in both prescription and over-the-counter (OTC) formulations. Which one is best for you? That depends on what benefit you expect to get from using it.
It's important to keep in mind that many off-the-shelf mouthrinses are primarily cosmetic: That means, they may (temporarily) make your mouth taste or smell good, but they don't offer any lasting benefit to your oral health. There's nothing wrong with that — as long as you weren't expecting anything more. But if you've been told that you are at risk for tooth decay or gum disease, you'll want to use a mouthrinse that has proven clinical benefits.
Therapeutic Mouthrinses
Mouthrinses that offer oral-health benefits are considered therapeutic. These fall into two general categories: anti-cariogenic rinses, which are designed to prevent tooth decay (and thus dental caries, or "cavities"); and anti-bacterial rinses, which help control the buildup of plaque bacteria in your mouth. Some products may even offer both types of protection.
To help prevent tooth decay, anti-cariogenic mouthrinses use an ingredient you're probably already familiar with: fluoride. This is often in the form of a .05% sodium fluoride solution. Because it's a liquid, the rinse can get all around your teeth — even into spaces the smallest brush can't reach.
Fluoride has been consistently proven to strengthen tooth enamel, which protects against decay; it can even reduce tiny lesions on teeth where a cavity may form. There's hardly anyone who couldn't use some extra help in the fight against cavities — but if you've been told you may be at a higher risk for tooth decay, or if you have difficulty brushing and flossing, then an anti-cariogenic rinse is a good choice for you.
Anti-bacterial mouthrinses generally contain ingredients (like triclosan, essential oils, or the prescription medication chlorhexidine) that help to control the microorganisms found in plaque. Plaque, a sticky, bacteria-laden biofilm, occurs not only on the surfaces of the teeth, but also in other parts of the mouth. Rinsing with an anti-bacterial solution has been shown to provide a greater reduction in plaque than brushing and flossing alone. As tools in the fight against gum disease (gingivitis) and tooth decay, anti-bacterial mouthrinses may be a good step toward improving your oral hygiene.
Choosing A Mouthrinse
If you're shopping for an over-the-counter therapeutic mouthrinse, look for the ADA (American Dental Association) seal on the label; it means that the product has been evaluated and proven effective by an independent panel of dental experts. If a mouthrinse has been prescribed for you, you should carefully follow the usage instructions. (Note, however, that due to labeling rules, prescription mouthrinses may not be eligible for the ADA seal.) Mouthrinses can benefit most people, but they generally aren't recommended for children under the age of six, who may swallow them.
Related Articles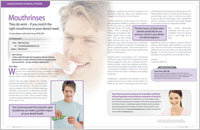 Mouthrinses Walk into any drugstore and you'll see a staggering number of mouthrinses on the shelves. Which one is right for you? It all depends on what you hope to accomplish by using it... Read Article