This section is dedicated to the latest information on oral health topics, culled from authoritative sources such as the American Dental Association.

Click here for the latest news from the American Dental Association.
---
Heart Disease
Poor dental hygiene can cause a host of problems outside your mouth-including your heart. Medical research has uncovered a definitive link between heart disease and certain kinds of oral infections such as periodontal disease. Some have even suggested that gum disease may be as dangerous as or more dangerous than other factors such as tobacco use. A condition called chronic periodontitis, or persistent gum disease, has been linked to cardiovascular problems by medical researchers.

In short, infections and harmful bacteria in your mouth can spread through the bloodstream to your liver, which produces harmful proteins that can lead to systemic cardiac problems. That's why it is critical to practice good oral hygiene to keep infections at bay-this includes a daily regimen of brushing, flossing and rinsing.
---
Antibiotic Prophylaxis
In some cases, patients with compromised immune systems or who fear an infection from a dental procedure may take antibiotics before visiting the dentist.

It is possible for bacteria from your mouth to enter your bloodstream during a dental procedure in which tissues are cut or bleeding occurs. A healthy immune system will normally fight such bacteria before they result in an infection. However, certain cardiovascular conditions in patients with weakened hearts could be at risk for an infection or heart muscle inflammation (bacterial endocarditis) resulting from a dental procedure.

Patients with heart conditions (including weakened heart valves) are strongly advised to inform our office before undergoing any dental procedure. The proper antibiotic will prevent any unnecessary complications.
---
Dentistry Health Care That Works: Tobacco
The American Dental Association has long been a leader in the battle against tobacco-related disease, working to educate the public about the dangers inherent in tobacco use and encouraging dentists to help their patients break the cycle of addiction. The Association has continually strengthened and updated its tobacco policies as new scientific information has become available.
Smoking and Implants
Recent studies have shown that there is a direct link between oral tissue and bones loss and smoking. Tooth loss and edentulism are more common in smokers than in non-smokers. In addition, people who smoke are more likely to develop severe periodontal disease.

The formation of deep mucosal pockets with inflammation of the peri-implant mucosa around dental implants is called peri-implantitis. Smokers treated with dental implants have a greater risk of developing peri-implantitis. This condition can lead to increased resorption of peri-implant bone. If left untreated, peri-implantitis can lead to implant failure. In a recent international study, smokers showed a higher score in bleeding index with greater peri-implant pocket depth and radiographically discernible bone resorption around the implant, particularly in the maxilla.

Many studies have shown that smoking can lead to higher rates of dental implant failure. In general, smoking cessation usually leads to improved periodontal health and a patient's chance for successful implant acceptance.
---
External Links
There's a new technology that's (literally) putting a smile on plenty of young faces: A system of clear, removable aligners made especially for teens called Invisalign Teen®! If you (or a teenager you know) are a candidate for this treatment, you might find it's the best fit for your lifestyle: It lets you eat what you want, makes it easier to clean your teeth — and best of all, it's virtually invisible.
Is a clear aligner right for you? It all depends on what kind of orthodontic treatment you need. Traditional metal braces still work best in some situations — and you might be surprised to find that they're still a popular option for many teenagers! But now that aligners are being designed specifically for teens, more are choosing them every day.
What is a clear aligner? Basically, it's a thin plastic covering or "tray" that fits over your top and/or bottom teeth. You'll wear a series of aligners that will gradually move your teeth into better positions. Here's how they work: Each aligner is custom-made with the help of a computer program that takes into account exactly where your teeth are now, and how they need to be moved. You'll wear each tray for two weeks or so, to shift your teeth slightly, and then you'll go on to the next, which is slightly different. Over time, all of the small movements will add up to a big change!
A Clear Distinction
Your aligner is designed to be worn 22 hours a day, allowing you to take it off for meals or important social occasions. Yet even when you're wearing it, it's pretty hard for anyone else to tell it's there — a big difference from metal braces! Plus, it offers other advantages that aren't so easy to see.
One benefit of aligners over traditional braces is that they make your teeth easier to clean. Because they're removable, there's nothing to keep you from brushing and flossing everywhere in your mouth, just as you would without appliances. But brushing and flossing can be much harder to do around the brackets and wires of braces — and oral hygiene often suffers.
Some people also suffer irritation to the cheeks and gums from the metal parts of braces. Fortunately, the plastic of an aligner rarely causes that kind of problem. Plus, you won't have to rush into the dental office to quickly fix a protruding wire or reattach a broken bracket. You won't have to watch what you eat, either, because you'll simply remove the aligner at mealtimes.
An Aligner Just for Teens
Clear aligners for adults have been available for over a decade, but until recently they weren't recommended for teens in most cases. Why not? Chiefly, for two reasons: It was thought that teens wouldn't always wear them for the recommended 22 hours per day; also, since many teens have some permanent teeth still erupting (emerging from below the gums), the precisely planned movement of the teeth might be disturbed.
Luckily, technology has come to the rescue. The first problem is addressed by "compliance indicators" located on the aligners themselves. These colored dots fade over time as the aligners are worn in the mouth, showing whether or not you've followed the plan. To solve the second problem, aligners made especially for teens come with "eruption tabs" built in; they are designed to hold space for teeth that have not yet fully erupted.
Today, more people than ever — both adults and teens — are finding that clear aligners suit their needs best. Are you one of them?
Related Articles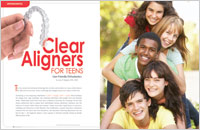 Clear Aligners for Teenagers Teens who regard traditional braces as restrictive, confining, and obstructive to their lifestyles now have another choice for orthodontic treatment: clear aligners. This advanced dental technology, originally geared toward adults, has recently evolved to treat a greater variety of bite problems in younger people. These improved orthodontic appliances can help teens function normally during a difficult phase of life... Read Article