This section is dedicated to the latest information on oral health topics, culled from authoritative sources such as the American Dental Association.

Click here for the latest news from the American Dental Association.
---
Heart Disease
Poor dental hygiene can cause a host of problems outside your mouth-including your heart. Medical research has uncovered a definitive link between heart disease and certain kinds of oral infections such as periodontal disease. Some have even suggested that gum disease may be as dangerous as or more dangerous than other factors such as tobacco use. A condition called chronic periodontitis, or persistent gum disease, has been linked to cardiovascular problems by medical researchers.

In short, infections and harmful bacteria in your mouth can spread through the bloodstream to your liver, which produces harmful proteins that can lead to systemic cardiac problems. That's why it is critical to practice good oral hygiene to keep infections at bay-this includes a daily regimen of brushing, flossing and rinsing.
---
Antibiotic Prophylaxis
In some cases, patients with compromised immune systems or who fear an infection from a dental procedure may take antibiotics before visiting the dentist.

It is possible for bacteria from your mouth to enter your bloodstream during a dental procedure in which tissues are cut or bleeding occurs. A healthy immune system will normally fight such bacteria before they result in an infection. However, certain cardiovascular conditions in patients with weakened hearts could be at risk for an infection or heart muscle inflammation (bacterial endocarditis) resulting from a dental procedure.

Patients with heart conditions (including weakened heart valves) are strongly advised to inform our office before undergoing any dental procedure. The proper antibiotic will prevent any unnecessary complications.
---
Dentistry Health Care That Works: Tobacco
The American Dental Association has long been a leader in the battle against tobacco-related disease, working to educate the public about the dangers inherent in tobacco use and encouraging dentists to help their patients break the cycle of addiction. The Association has continually strengthened and updated its tobacco policies as new scientific information has become available.
Smoking and Implants
Recent studies have shown that there is a direct link between oral tissue and bones loss and smoking. Tooth loss and edentulism are more common in smokers than in non-smokers. In addition, people who smoke are more likely to develop severe periodontal disease.

The formation of deep mucosal pockets with inflammation of the peri-implant mucosa around dental implants is called peri-implantitis. Smokers treated with dental implants have a greater risk of developing peri-implantitis. This condition can lead to increased resorption of peri-implant bone. If left untreated, peri-implantitis can lead to implant failure. In a recent international study, smokers showed a higher score in bleeding index with greater peri-implant pocket depth and radiographically discernible bone resorption around the implant, particularly in the maxilla.

Many studies have shown that smoking can lead to higher rates of dental implant failure. In general, smoking cessation usually leads to improved periodontal health and a patient's chance for successful implant acceptance.
---
External Links
People don't generally think of a dentist as the healthcare professional to see for recurring headaches or migraines; yet dentists can play a role in diagnosing and even treating your condition. That's because quite often, recurring pain that is felt in the area of the temples on the sides of the head is actually caused by unconscious habits of clenching and/or grinding the teeth. These habits, which often manifest during sleep, put tremendous pressure on the muscles that work your jaw joint, also called the temporomandibular joint (TMJ).
The fan-shaped temporalis muscles located over your temples on either side of your head are two of several muscles involved in jaw movement. You can easily feel them working if you put your fingertips on your temples while clenching and unclenching your jaw. When temporalis muscles go into spasm from too much clenching, headache symptoms may result. This is not to say that headaches and migraines are always caused by TMJ problems, also known as temporomandibular disorders (TMD). But given the established link between them, it definitely bears looking into — especially if a diagnosis remains elusive in your case.
Sources of Relief
The first thing you need is a thorough oral exam to determine if there is evidence of a clenching or grinding (also known as "bruxing") habit or TMD. If so, there are things you can do for immediate and long-term relief. Sometimes eating softer foods for a few days can reduce stress on the muscles and joints. Ice and/or moist heat can help relieve soreness and inflammation. Gentle stretching exercises, non-steroidal anti-inflammatory medications such as ibuprofen, and muscle relaxants can also provide relief.
Finally, a custom-made nightguard to wear when you sleep might be recommended. This plastic oral appliance, which fits over the teeth, can control or even eliminate clenching and grinding, reducing pressure on the muscles that work the jaw and the jaw joint itself. Some users have reported that their headaches or even migraines are less frequent and/or less intense.
Will a nightguard or other TMD therapy relieve your headaches? It depends on the source of the problem. But living with chronic headaches or facial pain is no fun — so don't delay scheduling an exam and a consultation.
Related Articles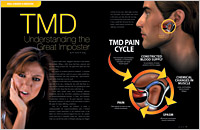 TMD – The Great Impostor This "chameleon" of dental disorders manifests in a variety of ways, including joint pain, sinusitus, ear pain, tooth and headaches. Dear Doctor magazine examines the causes of TMD, its signs and symptoms and what can be done to treat this common disorder... Read Article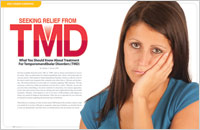 Seeking Relief From TMD TMD, or Temporomandibular Disorders, is an umbrella term for various painful conditions that affect the jaw joints. There are different treatment approaches to TMD problems, but not all are based on science. It's important to be up on the latest information and to be an educated consumer. In this comprehensive article, Dear Doctor magazine provides state-of-the-art information and guidance on what you should know, whom you should see, and what you should ask... Read Article