This section is dedicated to the latest information on oral health topics, culled from authoritative sources such as the American Dental Association.

Click here for the latest news from the American Dental Association.
---
Heart Disease
Poor dental hygiene can cause a host of problems outside your mouth-including your heart. Medical research has uncovered a definitive link between heart disease and certain kinds of oral infections such as periodontal disease. Some have even suggested that gum disease may be as dangerous as or more dangerous than other factors such as tobacco use. A condition called chronic periodontitis, or persistent gum disease, has been linked to cardiovascular problems by medical researchers.

In short, infections and harmful bacteria in your mouth can spread through the bloodstream to your liver, which produces harmful proteins that can lead to systemic cardiac problems. That's why it is critical to practice good oral hygiene to keep infections at bay-this includes a daily regimen of brushing, flossing and rinsing.
---
Antibiotic Prophylaxis
In some cases, patients with compromised immune systems or who fear an infection from a dental procedure may take antibiotics before visiting the dentist.

It is possible for bacteria from your mouth to enter your bloodstream during a dental procedure in which tissues are cut or bleeding occurs. A healthy immune system will normally fight such bacteria before they result in an infection. However, certain cardiovascular conditions in patients with weakened hearts could be at risk for an infection or heart muscle inflammation (bacterial endocarditis) resulting from a dental procedure.

Patients with heart conditions (including weakened heart valves) are strongly advised to inform our office before undergoing any dental procedure. The proper antibiotic will prevent any unnecessary complications.
---
Dentistry Health Care That Works: Tobacco
The American Dental Association has long been a leader in the battle against tobacco-related disease, working to educate the public about the dangers inherent in tobacco use and encouraging dentists to help their patients break the cycle of addiction. The Association has continually strengthened and updated its tobacco policies as new scientific information has become available.
Smoking and Implants
Recent studies have shown that there is a direct link between oral tissue and bones loss and smoking. Tooth loss and edentulism are more common in smokers than in non-smokers. In addition, people who smoke are more likely to develop severe periodontal disease.

The formation of deep mucosal pockets with inflammation of the peri-implant mucosa around dental implants is called peri-implantitis. Smokers treated with dental implants have a greater risk of developing peri-implantitis. This condition can lead to increased resorption of peri-implant bone. If left untreated, peri-implantitis can lead to implant failure. In a recent international study, smokers showed a higher score in bleeding index with greater peri-implant pocket depth and radiographically discernible bone resorption around the implant, particularly in the maxilla.

Many studies have shown that smoking can lead to higher rates of dental implant failure. In general, smoking cessation usually leads to improved periodontal health and a patient's chance for successful implant acceptance.
---
External Links
Some people feel self-conscious about smiling because they believe their gums are too prominent. Though we each have our own definition of what makes a smile beautiful — including how much gum is too much — a smile will usually be perceived as "gummy" when 4 millimeters (just over an eighth of an inch) of gum tissue shows. If your smile looks gummy to you, it's important to figure out exactly what's causing this. Only then can the appropriate cosmetic dental or periodontal (gum) procedures be recommended to give you a more pleasing appearance of the gums and teeth.
Causes
Gummy smiles may be caused by one or more factors relating to the gums themselves, the teeth, or even the lip or jaw. Each of these areas will require a different approach to solving the problem. Let's look at some of the ways a gummy smile can be corrected:
Gums. If your teeth appear too short in relation to your gums, it could be that they are being covered up by too much gum tissue. This problem can be solved with a periodontal plastic surgery technique called "crown lengthening," which involves removing and reshaping the excess tissue to expose the full length of teeth.
Teeth. There are natural variations in the tooth-eruption process that can result in shorter than normal teeth and gumminess of the smile. If that's the case, your teeth can be made to appear longer by capping (crowning) them or covering them with thin porcelain veneers. It's also possible that your teeth have become worn down over time, especially if you have a grinding habit. When this happens, it can cause what is known as compensatory eruption. To compensate for the wear and maintain a functional bite, the teeth actually begin to move (or erupt) very slowly outward from the gum. This makes the smile appear gummier because the gums, which are attached to the teeth, move with them as they erupt. In some cases orthodontic treatment can be used to move the affected teeth back up into correct position. Afterwards, the worn-down teeth would usually be restored with porcelain crowns or veneers.
Lip. On average, the upper lip moves 6 to 8 millimeters from its normal resting position to a full smile. If the lip is hypermobile, meaning it rises much farther up, more gum tissue will be revealed. Here the action of the muscles that control the lip will need to be modified so they don't raise it quite so high. Treatment can range from Botox shots that temporarily paralyze the muscles (for about six months), to surgery that permanently restricts how high the lip can move, referred to as a lip stabilization procedure.
Jaw. Sometimes the upper jaw (maxilla) is too long for the face, a condition referred to as Vertical Maxillary Excess. If this is the case, the jaw would need to be repositioned with orthognathic surgery ("ortho" – straighten; "gnathos" – jaw). Of all the treatment listed here, this one is the most complex — but it can achieve dramatic results.
As you can see, there is no one-size-fits-all approach to correcting a gummy smile. However, there are various techniques that can achieve dramatic improvements.
Related Articles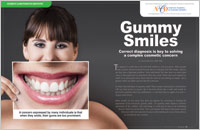 Gummy Smiles Sometimes a smile doesn't look as appealing as it could because the gums appear too prominent. If this describes your smile and it's something you want to change, chances are you can be helped by one of several available treatments. But first your dentist will need to determine exactly why your smile looks gummy to begin with. Find out the various causes and treatments... Read Article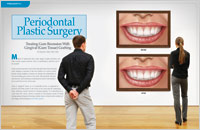 Periodontal Plastic Surgery Millions of Americans have some degree of gum recession — a loss of the tough, pink tissue that surrounds teeth. Receding gums can cause anything from minor tooth sensitivity to tooth loss in very severe cases. Fortunately, the field of periodontal plastic surgery has made enormous strides in devising techniques, including grafting, to deal with the problem of lost or damaged gum tissue... Read Article