This section is dedicated to the latest information on oral health topics, culled from authoritative sources such as the American Dental Association.

Click here for the latest news from the American Dental Association.
---
Heart Disease
Poor dental hygiene can cause a host of problems outside your mouth-including your heart. Medical research has uncovered a definitive link between heart disease and certain kinds of oral infections such as periodontal disease. Some have even suggested that gum disease may be as dangerous as or more dangerous than other factors such as tobacco use. A condition called chronic periodontitis, or persistent gum disease, has been linked to cardiovascular problems by medical researchers.

In short, infections and harmful bacteria in your mouth can spread through the bloodstream to your liver, which produces harmful proteins that can lead to systemic cardiac problems. That's why it is critical to practice good oral hygiene to keep infections at bay-this includes a daily regimen of brushing, flossing and rinsing.
---
Antibiotic Prophylaxis
In some cases, patients with compromised immune systems or who fear an infection from a dental procedure may take antibiotics before visiting the dentist.

It is possible for bacteria from your mouth to enter your bloodstream during a dental procedure in which tissues are cut or bleeding occurs. A healthy immune system will normally fight such bacteria before they result in an infection. However, certain cardiovascular conditions in patients with weakened hearts could be at risk for an infection or heart muscle inflammation (bacterial endocarditis) resulting from a dental procedure.

Patients with heart conditions (including weakened heart valves) are strongly advised to inform our office before undergoing any dental procedure. The proper antibiotic will prevent any unnecessary complications.
---
Dentistry Health Care That Works: Tobacco
The American Dental Association has long been a leader in the battle against tobacco-related disease, working to educate the public about the dangers inherent in tobacco use and encouraging dentists to help their patients break the cycle of addiction. The Association has continually strengthened and updated its tobacco policies as new scientific information has become available.
Smoking and Implants
Recent studies have shown that there is a direct link between oral tissue and bones loss and smoking. Tooth loss and edentulism are more common in smokers than in non-smokers. In addition, people who smoke are more likely to develop severe periodontal disease.

The formation of deep mucosal pockets with inflammation of the peri-implant mucosa around dental implants is called peri-implantitis. Smokers treated with dental implants have a greater risk of developing peri-implantitis. This condition can lead to increased resorption of peri-implant bone. If left untreated, peri-implantitis can lead to implant failure. In a recent international study, smokers showed a higher score in bleeding index with greater peri-implant pocket depth and radiographically discernible bone resorption around the implant, particularly in the maxilla.

Many studies have shown that smoking can lead to higher rates of dental implant failure. In general, smoking cessation usually leads to improved periodontal health and a patient's chance for successful implant acceptance.
---
External Links
Firmly anchored in your jaw and protected by an outer coating of tough enamel, your teeth are remarkably strong — yet it's still possible for them to chip, crack, or even break. In fact, there is some evidence that today, our teeth are developing cracks at a record rate. This may be due to the fact that people are living longer (giving teeth more time to accumulate damage), or that our stress levels are increasing (which may cause teeth clenching and grinding).
Biting on hard objects, receiving a blow to the mouth, or having large cavities (or old amalgam fillings) that weaken the tooth's structure are also common causes of tooth fractures. But no matter of the cause, there are a number of symptoms that indicate a tooth may be cracked, and several treatments we can offer, depending on the severity of the injury.
Small chips on the edges or cusps of teeth often cause no symptoms, and can be treated by cosmetic bonding or other methods. Deeply fractured teeth, on the other hand, may be a serious problem. The sooner they are treated, the more likely it is that the affected tooth can be saved. Let's take a look closer look at the types of fractures teeth can develop, and the symptoms they may produce.
Minor Cracks (craze lines)
These tiny fissures in the outer enamel of the tooth often cause few or no symptoms; in fact, most don't require treatment. If you are having tooth pain, however, these cracks will need to be evaluated and possibly treated. That's because without a careful examination, there is no way to know for sure whether these cracks go into only the enamel, or if they penetrate into the dentin (inner body) of the tooth. While the tiniest craze lines don't show up on X-rays, they can often be detected by feel (using a small instrument called an explorer), by having you close down on a "bite stick," or by using special dye stains or high-magnification instruments.
Vertical Cracks

This type of crack often starts at the chewing surface and extends toward the roots — but may it also begin in the root and continue toward the crown. Either way, it doesn't completely separate the tooth into two parts. Depending on the extent of the fracture, you may feel only minor discomfort that occurs in response to temperature changes (with hot or cold beverages, for example); or, it may produce sharp pain when you chew. In any case, you shouldn't ignore the symptoms, because cracked teeth require dental treatment quickly to keep them from progressing further. If the cracks continue to progress, tooth extraction may become necessary.
Deep Fractures or Split Teeth
When serious fractures occur, you'll know it: The distinct parts of the tooth can be separated from each other, and tooth's pulp is often inflamed and painful. This condition requires immediate treatment, and it's rarely possible to save the affected tooth.
Treatment for Cracked Teeth
What treatment is best for a cracked tooth depends on the extent and the severity of the damage. If a small crack is detected early enough, it's often possible to seal the fissure with restorative materials. For larger cracks that involve the pulp of the tooth, root canal treatment is generally required. Afterward, the visible structure of the tooth may be restored with a crown or "cap." Sometimes, additional procedures may be recommended to try and save the tooth. In the most severe cases, however, the tooth will need to be extracted.
The preferred treatment for cracked teeth is — you guessed it — prevention! Wearing proper protective equipment (including a custom-fitted mouthguard) when playing sports, and staying alert to dangerous situations (like distracted or impaired driving) can help keep you safe. So can regular dental checkups, where your teeth are examined carefully for early signs of a problem. However, if you experience any symptoms that could indicate a cracked tooth, don't wait: The sooner it's treated, the better the chance that we can save it.
Related Articles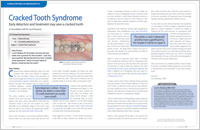 Cracked Tooth Syndrome Teeth are fracturing today in record numbers. Causes include longer life spans (older, brittle teeth tend to crack more) and higher stress levels, which may lead to increased teeth clenching and grinding. The earlier a crack is detected and the more superficial it is, the simpler it will be to repair it... Read Article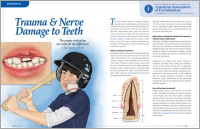 Trauma & Nerve Damage to Teeth Answers to treatment of specific dental injuries — not only do injuries and their treatment vary, but they are also influenced by the type of tooth, whether baby or adult teeth, and their stage of growth and development. From chipped to fractured teeth, modern dentistry's answers are here and now... Read Article